For those of you who were wondering, I spent the last few days engulfed in music, mud, and rampant drug use at this year's Bonnaroo (a music festival in Manchester, TN). It was my first outdoor music festival experience as well as my first time camping, which proved to be an interesting combination.
Instead of paying $250, I decided to work as a volunteer, which not only allows you to see the shows for free but also equips you with necessities such as free access to a shower (with hot water!) as well as other nice perks like being able to slip to backstage (albeit with some coaxing at times).
We arrived in Manchester, TN at around 7pm on Tuesday to check in and had our tent set up at camp by 9pm. We spent some time getting to know our very nice neighbors who came from North Carolina, ATL (rep!), and Philadelphia. Everyone was so friendly and extremely willing to lend items like hammers and assist us with setting up our tent, etc.
On Wednesday, it started raining midday but cleared up by the time we went to the volunteer orientation. So, what kinds of jobs were volunteers required to do? It seems like a great number of people were "Trash Talkers," which meant that you either hung out near the trash cans and told people where to put their landfill/recyclables/compostable items or literally picked up the trash in Centeroo. Some people got lucky and got to work at the trash cans backstage, which meant that they were privy to some great information (like which celebrities were too fucked up to walk - ahem, Drew Barrymore and Justin Long - yes, they're back together) as well as a great view.
As for me, I landed a really cushy gig of escorting people back and forth to meetings with the marketing exec backstage. I didn't get to see anyone famous (or at least anyone I recognized but I did see a great number of groupies), but my co-volunteer saw Al Green, Karen O from the Yeah Yeah Yeahs, and Wilco.
The shift times tend to vary. You could work in the morning, afternoon, or night. It's really luck of the draw. You can request to work with certain people, but there is no guarantee that you will work with them. It does help to submit your applications on the same day or even right after each other.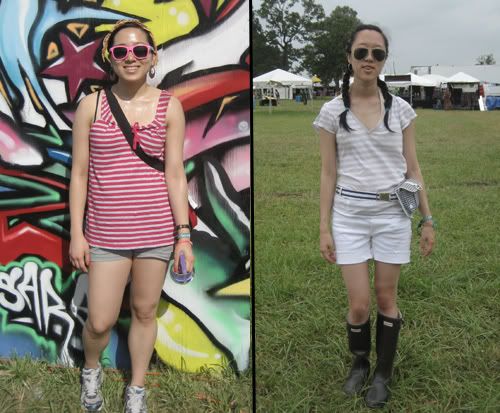 But aside from working, my main concern for the entire trip was: what am I supposed to wear? I looked towards Kate Moss for tips, as she's a frequent face at Glastonbury. Hunter rain boots are a must. They are durable, and the knee length ones protect extremely well (yes, you will have mud splashing up to your knees). Since the weather in the South nears 100% humidity, I opted to pair the boots with shorts and then wear a light T-shirt with a bathing suit underneath. Be sure to wear plenty of sunscreen because I ended up getting a nasty sunburn on my back.
Clothing-wise, you're going to see everything under the sun. There were playsuits, people dressed like an American Apparel ad, an Urban Outfitters lookbook, and a flashback to Woodstock styles. I even saw a woman who decided that pasties were a great alternative to shirts.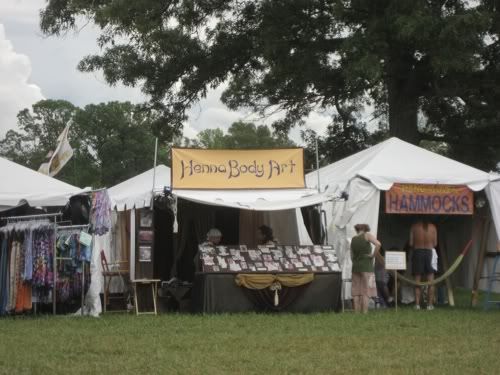 As for food, the vendors were extremely varied. There was the typical festival fare like hamburgers and hot dogs, but there were also fajitas, gumbo/jambalaya, and tofu stir fry. There were also lots of options for vegans, so don't fret if you're not into any of the stuff I mentioned.
The shows run pretty much all night long, so try to pace yourself as much as possible. Nap when you can at your own tent or at any of the places that offer air conditioning, like the cinema or comedy tents. I caught a lot of my zzz's there. Also, I would recommend spending some time at the smaller stages, as the acts can be more intimate and less crowded at the larger tents. I discovered some really good bands that way.
Lastly, do not go to Bonnaroo if you are any of the following:
squeamish about drugs.
squeamish or disapproving of open drug use in every form possible.
unable to go without showering for one or more days.
unable to bear other people not showering for one or more days.
skeev at the idea of using a port a potty.
attached to technology.
melt at temperatures like 84* with 80% humidity.
hate camping. With 80,000 other people.
claustrophobic.