I've got some issues. I used to pass myself off as a "maximalist" (not a real word, I am aware) to excuse my ridiculous double closet plus 80-100 shoe count. (Other excuses used: "
Jinah
has a bigger closet and bigger hoarding issues than me, so I am okay." For the record, Jinah says this to herself as well, replacing her name with someone else's. I'm convinced this is a way of life for most girls.)
I look at people who are able to keep their shoe count down to the single digits, or even bloggers like
Dead Fleurette
who has created a wardrobe based around the French 4-5 piece philosophy in absolute amazement. Seriously, how do you come to the decision to reduce and maintain a small wardrobe? My closet is literally bursting with crap. The sad thing is, I can tell you exactly where I got each item, an approximate price point, and a small anecdote about said item. Is this a sign that I should sign up for an A&E show?
I think I could probably reduce my shoe collection. All the shoes in the first two rows are the ones I've been wearing the most this summer: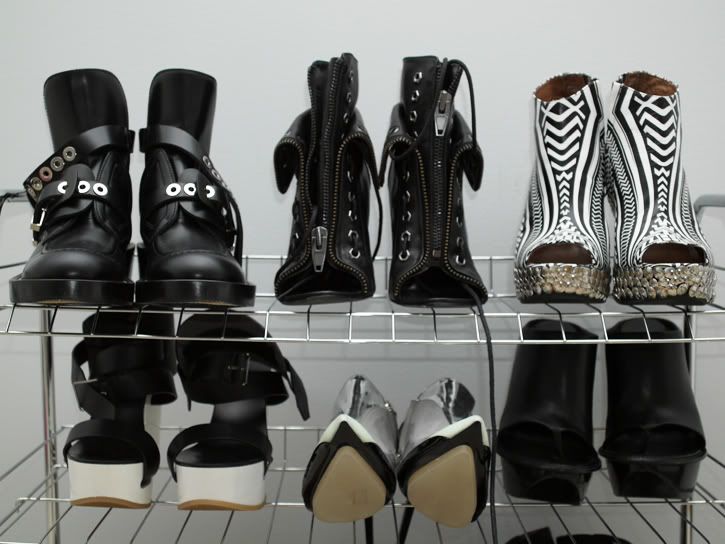 Top: Balenciaga cut out boots, Alexander Wang Frejas, Jeffrey Campbell Ticks in Tribal
Bottom: Chloe Kirsten Wedge, Balenciaga space boots from FW08, Alexander Wang mules
But how do I even begin to conquer my clothes? I suppose the first question I should be asking is if this lifestyle is viable for me. Opinions, experiences, and advice requested. Also, if anyone has tried it and decided against it, please tell me your story!