On a recent trip to my nearby
Neiman Marcus Last Call
, I stumbled upon this Stella McCartney jacket from the FW09 runway collection on the markdown rack. Originally priced at $1625, it was reduced to the outlet price of $578, then given a further 50% off discount. It's a beautiful, incredibly structured and tailored jacket. It's also in a rather avant garde silhouette from a label that's considered obscure in this region, which probably explains why it was still hanging in the store.
I really love the near cape-like quality of the cut, and the print really gives some intensity to my usual, solid colored wardrobe. But at close to $300, I still couldn't decide if I should buy it. A few day ago, I got an email from Last Call, saying that they were giving shoppers 30% off all purchases. When I saw it still hanging on the racks, I knew it had to come home with me. Bought for $200, I think it's my best buy of this year. (It beat out the $11 jeans I bought from the Gap earlier this month.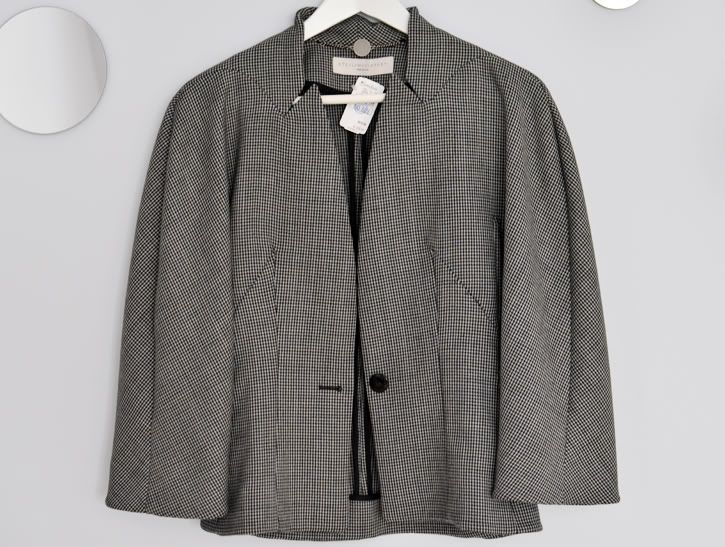 It's Fashion's Night Out! Where are you going to be?
I'm starting out at the Modern Luxury pop up shop at Atlantic Station, then I'm going to check out the Frank Tell pop-up plus some other stores around the area. Then, I'm heading to Phipps so I can preview the Chanel Les Blues nail polish (and get a polish change from the rainbow concoction I've currently got on). While I'm there, I've got to make a pit stop at Jeffrey's before going to the new Bottega store to get a whiff of their new scent. The night ends at Lenox where I'll probably have to restrain Jinah from buying everything in the store. Holler if you see me! I'll be wearing this jacket.
twitter | tumblr | formspring
|