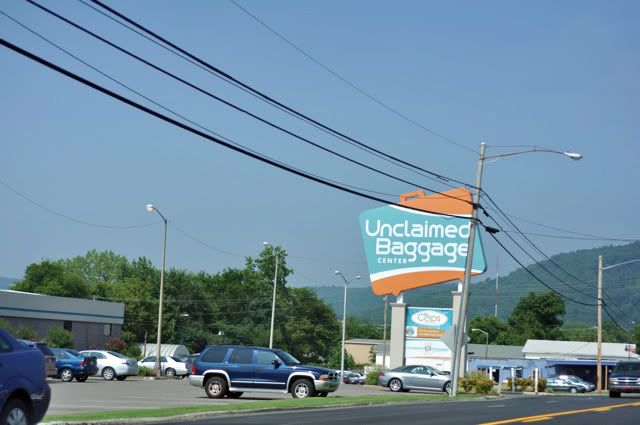 Soooo, what's the dish on the
Unclaimed Baggage Center
? First, it looks like a DMV that you would see in Florida. I don't know why they chose to decorate in the colors they did. Maybe it was renovated in the '80s when washed out pastel colors mixed with various shades of brown was acceptable. Maybe the folks who drew up the plans were drunk when they chose the colors. So many plausible explanations could be given.
Second, it isn't exactly the bargain heaven that the website wants you to believe. There were a few goodies that I spotted: a pair of River Island purple suede platform pumps for $25 and an almost brand new ASOS pussy bow blouse in size 8 for $10.
Jinah
also picked up a pair of Paige denim jeans with the tags still on them for $15. (Her haul is SO much better than mine, even if the one shouldered print dress she found is too small for her.)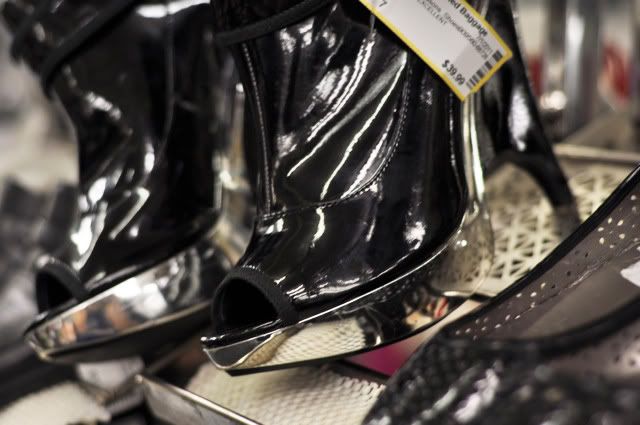 I was in the market for T-shirts, so I dug through the boy's section and found a few for $0.99. The best find was a T-shirt that was NWT and purchased for $4.29. I came home to find that it's from the Korean brand
SPAO
and endorsed by K-pop mega band, Super Junior.
Other items that were spotted but extremely overpriced: Kate Spade items that ran from $150-$200, badly made counterfeit Gucci bags for $50, worn in Christian Louboutin knockoffs for $80, USED make up items for $17-$30, formal dresses for $80-$150, a Sonia Rykiel pink feather fur coat for $200 (dubious origin).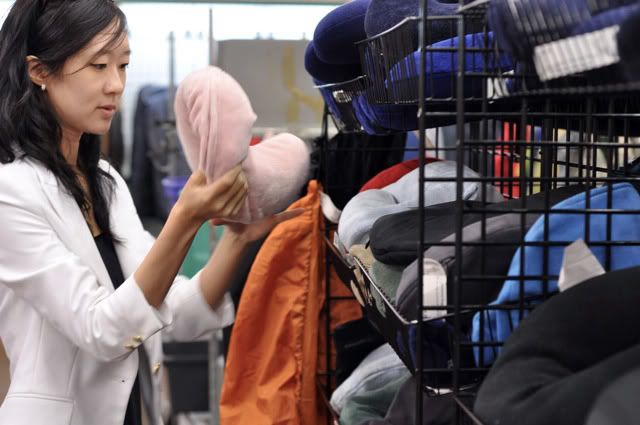 Clearly, the people who are behind the pricing at the
Unclaimed Baggage Center
have lofty notions of the market value of their goods. At the end of the day, UBC is simply a nicely done thrift store. Their prices should reflect as such. Only an idiot would be dumb enough to pay $200 for a pair of Kate Spade shoes that are out of season, maybe used, and without a box. With competition from websites like
The Outnet
, Neiman Marcus midday dash plus their outlet stores, UBC doesn't exactly prove to the bargain it advertises itself to be. If you're considering making the trip out to Scottsboro, I would suggest that you're better off visiting the nearest outlet center or even checking out the sales at the nearest mall near you.
all photos on this page by
Jinah
! Click
here
for her take on the trip.