Do you remember the Isabel Marant Dicker boots? Of course you do. Who could forget with Kate Bosworth and Rosie Huntington Whitley and even Katie Holmes prancing about with them on their feet? It was the subtle "it" boot of last fall, rendered even more lustworthy because of its exclusive availability and high sticker price.
Well, I almost scored myself a pair on
Net-A-Porter
. Almost is the clue word. Like an idiot, I listened to the sizing recommendation on their website and went one size down instead of ordering the usual 37. So, when they arrived, I had to send them back because they were too tight. I may be $615 richer, but it hasn't stopped these boots from haunting me.
Maybe it's a good thing I didn't get them, because nearly every single high street retailer has released their own interpretation of this elusive boot.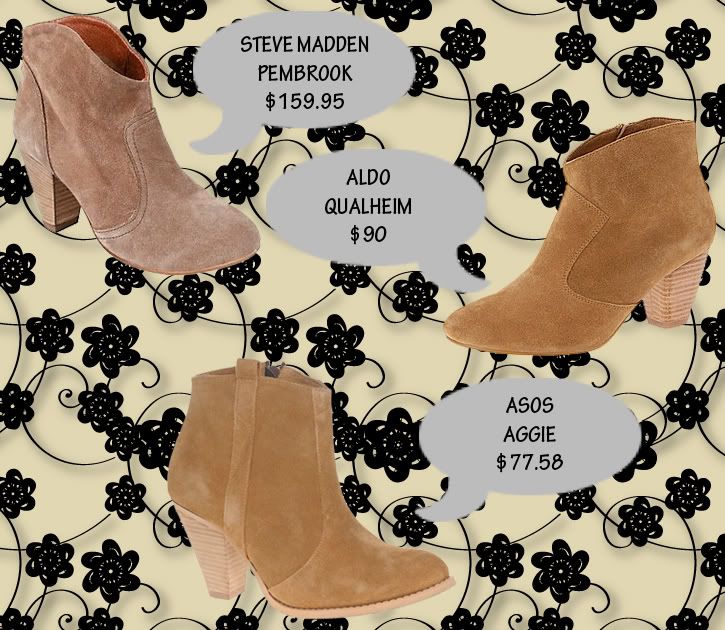 Out of all of them, I want to say that the
Aldo Qualheims
are the closest to the original Dicker boots, since it keeps the low shaft and the side zip. The
Steve Madden Pembrooks
look like they would be the most snug fit and also the best suede, but at $160 and a chunkier heel, it does look like Dicker's bastard brother who came out of the womb missing a few essential parts (i.e. the side zipper).
ASOS' Aggie
is the cheapest and the highest heel height, but the boot is too high and the pull tab on the side is an extraneous detail that has little use aesthetically or in practicality.
Verdict: Go with the
ASOS Aggies
. You'll cry less when the heel eventually gives out from excessive use. Also, I don't forsee these boots living for another season.