Agyness Deyn has been kinda ruining my life. When I see her on TV or my computer screen, I have to drop everything and look. It doesn't matter if I'm in the middle of cooking a steak or picking eye boogers off my dog. Aggy demands my full attention at all times.
So when she started walking around Manhattan with this little red clutch, I stopped and stared. Then I realized that this is the bag I've wanted for a while. It's got a chain that you can remove. You don't have to sling it over your arm and has enough space for my wallet, cell phone, and a day planner and nothing else. (When I carry big bags, I tend to carry big things. By a week's end, you will find several books, at least 2 pairs of shoes, candy wrappers, 5 packs of gum, old receipts, and other people's wallets and keys.)
I guess the only question is: do I copy Aggy and get it in red (although I'm kinda thinking that patent leather is on its way to my "old news" list) or be bold with the aubergine (purple) lizard?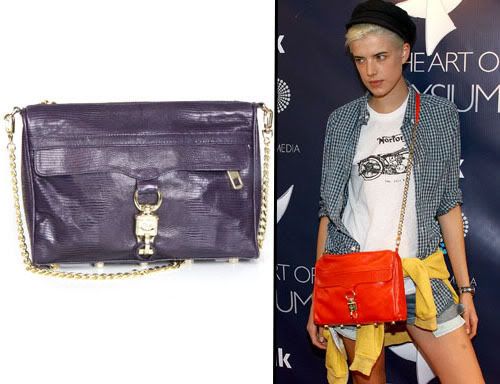 source: rebeccaminkoff.com