When I went to San Francisco last March, I only ended up buying one thing - the Levi's that I wore today. I don't know why I didn't buy anything because the Barney's in San Fran is incredible. But that's what happened.
The last time I owned Levi's was when I was 14. They were the first pair of flaired leg pants that I had, and I just about lived in them. But their sizing is a little big for me, which worked out perfectly for this season.
Maybe the sunglasses thing might end up being permanent. Maybe you will NEVER see my eyes. Unless you meet me in real life. Then I would kinda have to succumb because I hate wearing sunnies indoors. It looks ridiculous.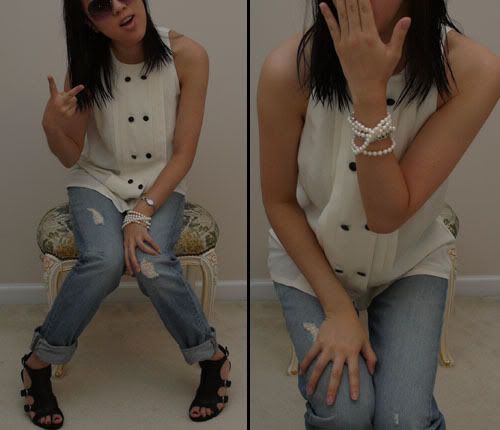 top.

Alexander Wang.

jeans.

Levi's.

shoes.

Nine West.